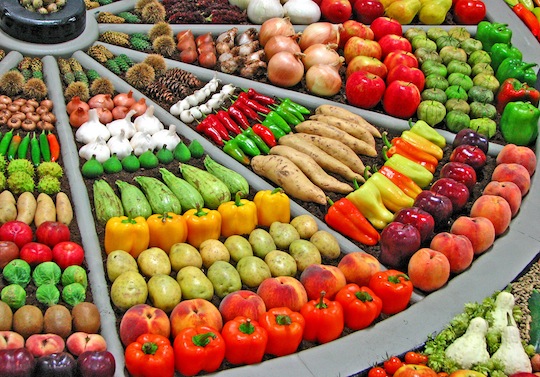 The underlying question here really is, "how can I hit my protein as a vegetarian/vegan while doing IIFYM?"
Very easily! Below we have collected a list of high protein vegetarian/vegan options as inspiration for you.
Suitable for both vegetarians and vegans:
Faux meats (Gardenburger, Gardein, Morningstar Farms, Tofurkey, Field Roast, etc) – Make sure you check the label – generally those with soy protein isolate or pea protein isolate will have higher protein content. "Vegetable" or black bean burgers may be lower in protein content.
Tofu – 79g serving – 10g protein (this is for Extra Firm, there are Lite versions with lower fat/carbs)
Tempeh – 76g serving – 16g protein
Textured vegetable protein – ¼ cup (24g) dry – 12g protein
Edamame – 1 cup (155g) – 17g protein
Seitan – 85g serving – 21g protein (for almost no carbs/fat! You can make your own with vital wheat gluten)
Lentils – ½ cup (53g) uncooked – 12g protein
Black Beans – 100g cooked – 9g protein
Quinoa – 185g cooked – 8g protein
Split Peas – ¼ cup (52g) uncooked – 10g protein
Pumpkin Seeds – 1 oz – 9g protein
Hemp seeds – 1 oz – 10g protein
PB2 – 2 tbsp (12g) – 5g protein (defatted, powdered peanut butter)
Peanut Butter – 32g – 8g protein
Explore Asian Pastas – ~25g protein per serving
Primal Jerky – range from 10-11g protein per stick
Simply Protein Chips, Kay's Naturals Protein Chips/Cookies – ~12g protein per snack pack
So Delicious – Almond + Plus, Almond Milk Original – 1 cup, 5g protein
Nutritional Yeast – 5g – 3g protein
Vegetarian:
Eggs/egg whites
Cheese
Milk
Whey Protein Powder
Yogurt/Greek Yogurt
Cottage Cheese
P28 Whey infused nut butters/wraps/bagels/bread
Kashi Go Lean cereal – ~13g protein per serving
Vegan Protein Powders:
Vega – Expensive but has added glutamine.
Sunwarrior – Can be chalky, good for baking/cooking.
Raw Fusion – May cause gas.Soy free. Gluten free.
Plant Fusion – May cause gas. Soy free. Gluten free.
Organix – Can be bought at Costco.
Green Foods True Vitality – Very sweet. Soy free. Gluten free. Totes probiotics and enzymes.
Naturade  – My favorite tasting, by far. Soy free. Gluten free. Personally love the Chai! Runs around $2.50 per serving.
True Nutrition – The most cost efficient brand I have found. http://truenutrition.com/p-1169-vegan-protein-optimizer-formula-1lb.aspx approximately 53 cents per serving!
A good way to plump your protein intake is to choose sources of carbs (beans) and fats (nut butters) that are high in protein.
Remember, we also look at micronutrients! Be sure to keep an eye on your iron and B12. As a vegetarian/vegan, we want to make sure we are giving our bodies the nutrients we need!
Creatine – Don't forget to take your creatine! Vegetarians can benefit from daily creatine supplementation. http://www.wisegeek.com/what-are-the-benefits-of-creatine-for-vegetarians.htm
But aren't vegetables an incomplete source of protein?
This has been debunked: http://www.forksoverknives.com/the-myth-of-complementary-protein/
No one is left out with IIFYM!